Product Summary
The b82791h2401n001 is a Current-compensated ring core double choke. Applications include: Suppression of common-mode interferences, Electronic ballasts in lamps, and Switch-mode power supplies.
Parametrics
b82791h2401n001 absolute maximum ratings: (1)Rated voltage: 250 V AC; (2)Rated current: 0.25 A to 0.9 A; (3)Rated inductance: 4.7 mH to 47 mH; (4)Test voltage Vtest: 1500 V AC, 2 s (line/line); (5)Rated temperature TR: +40 ℃ or +60 ℃.
Features
b82791h2401n001 features: (1)Without potting; (2)High resonance frequency due to special winding technique and omission of potting; (3)Approx. 1.5% stray inductance for symmetrical interference suppression; (4)Suitable for wave soldering; (5)Design complies with EN 60938-2 (VDE 0565-2) and UL 1283; (6)UL1) and ENEC (VDE) approvals; (7)RoHS-compatible.
Diagrams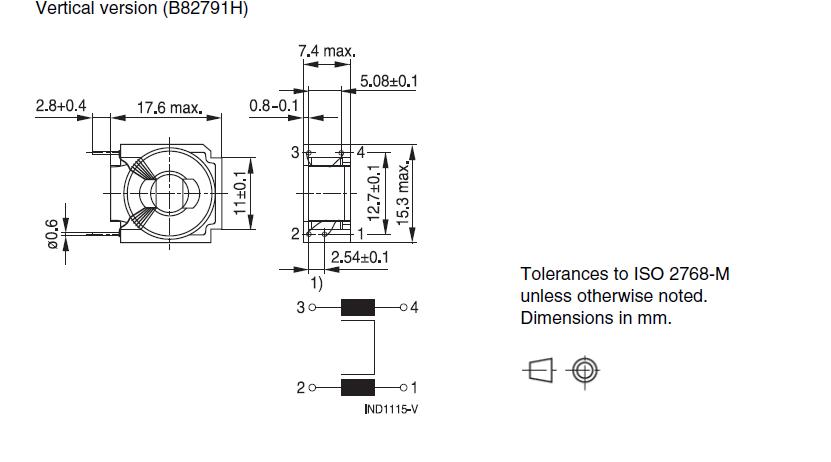 Image
Part No
Mfg
Description
Pricing
(USD)
Quantity

B82791H2401N001

EPCOS

Power Inductors RING CORE CHOKE 2X15MH 0.40A

Data Sheet



| | |
| --- | --- |
| 0-185: | $1.80 |
| 185-500: | $1.64 |
| 500-1000: | $1.51 |
| 1000-2000: | $1.39 |

Image
Part No
Mfg
Description
Pricing
(USD)
Quantity

B827

Other



Data Sheet

Negotiable

B82719C0

Other



Data Sheet

Negotiable

B82719-C0

Other



Data Sheet

Negotiable

B82719-N365

Other



Data Sheet

Negotiable

B82720A2102N40

EPCOS

Power Inductors RING CORE CHOKE 2X3.0MH 1.0A

Data Sheet



| | |
| --- | --- |
| 0-1: | $1.99 |
| 1-10: | $1.32 |
| 10-25: | $1.20 |
| 25-100: | $1.09 |


B82720A2152N040

EPCOS

Power Inductors RING CORE CHOKE 2X1.6MH 1.5A

Data Sheet



| | |
| --- | --- |
| 0-1: | $2.60 |
| 1-50: | $2.00 |
| 50-100: | $1.82 |
| 100-400: | $1.65 |